Sponsors
Become a sponsor
Austprem Inc. is a registered not-for-profit organisation. Our aim is to reduce the incidence of premature birth through research and improved pregnancy health information and to support families who have experienced the birth of a premature baby.
Around 46 babies each day in Australia are born as the result of spontaneous premature labour. In a recent article, the Australian College of Midwives described premature birth as '…..a complex and unresolved public health problem.' Premature labour contributes to more than two-thirds of all perinatal deaths and may have a lifetime impact on families, healthcare services and education systems. Premature labour, or other complications which may result in the early birth of a baby, can sometimes be stopped or controlled with a combination of medication and rest. More often, birth can be delayed just long enough to transport the women to a hospital with a Neonatal Intensive Care Unit and to give drugs to help speed up the baby's lung development. The earlier a potential problem is diagnosed, the better the opportunity health care professionals have to ensure that the pregnant woman and her baby are provided with the best possible care.
With this thought in mind, Austprem Inc. has developed BORN EARLY in order to increase awareness in the community of the possible signs and symptoms of premature labour and other pregnancy complications. By using the slogan - 'It's probably nothing, but it might be something', it is our aim to impress on pregnant woman, their partners, other family members and friends the importance of not ignoring signs or symptoms of possible problems during pregnancy and calling their doctor, health care provider or going to a hospital if they are concerned.
In November this year, as part of the Born Early campaign, Austprem will be holding the inaugural National Premature Birth Awareness Week. This week aims to increase awareness about premature birth and to raise funds to support research into the many causes of premature labour and other complications of pregnancy and to provide educational resources to GPs and other health care providers and to the community.
As a part of NPBAW, each baby in a NICU or SCN at a Level III hospital will be receiving a cooler bag (for future transport of breastmilk to hospital) containing a number of gift items and information directly relevant to the journey of a premature baby. Earlybirds clothing and Aromababy have already joined Austprem as sponsors of the bags. We are planning to pack 1000 bags and, for a donation, we would like to invite you to include a small product, discount voucher and/or brochure (max A5 size) in these bags.
Please contact info@bornearly.org.au for further information and to discuss your participation in this exciting project.
Our sponsors - working together to solve the puzzle of premature birth:
Beautiful clothing for premature and small babies
David Docherty
D&D Mailing
19-25 Overseas Drive
NOBLE PARK VIC 3174

Grant Gittus Graphics
Art, Illustration and Design
www.gggraphics.com.au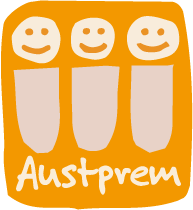 Think Twins is Australia's biggest online store for families with twins, triplets and more. Whether it's finding a gift or accessing a range of articles and resources, Think Twins will make life as a parent of premature twins a little easier. Check out our range of exclusive gifts and keepsakes for all ages, a unique range of baby and toddler clothing, invitations and greeting cards for birth announcements and christenings, a huge range of twin-specific books for parents and children, safety harnesses and headrests, hampers, pregnancy wear, breastfeeding products and much, much more.